Two standardized IEC 61131-3 programming languages - function blocks (FUPLA), structured text (ST)
Modbus Server, Modbus Client
BACnet Server, BACnet Client
Integrated HMI editor
Integrated Web HMI
Free and secure remote access via cloud Proxy
Full encryption support for remote connection and SMTP (e-mails)
Get Mervis IDE/RT to your platform
There are two main steps
RT needs to be ported to your system and necessary adaptation for your I/O system, communication ports and interaction with operating system have to be implemented.
Support for your platform must be added into Mervis IDE.
The level of support for different platforms varies significantly in Mervis IDE/RT.
Some hardware manufacturers use it for firmware programming and don't request any user-friendly features.
Other platforms are heavily end-user focused and Mervis IDE/RT offers the highest level of editing, configuration and HMI creation comfort.
Screenshots
Previous image
Next image
Back to overview
Dark theme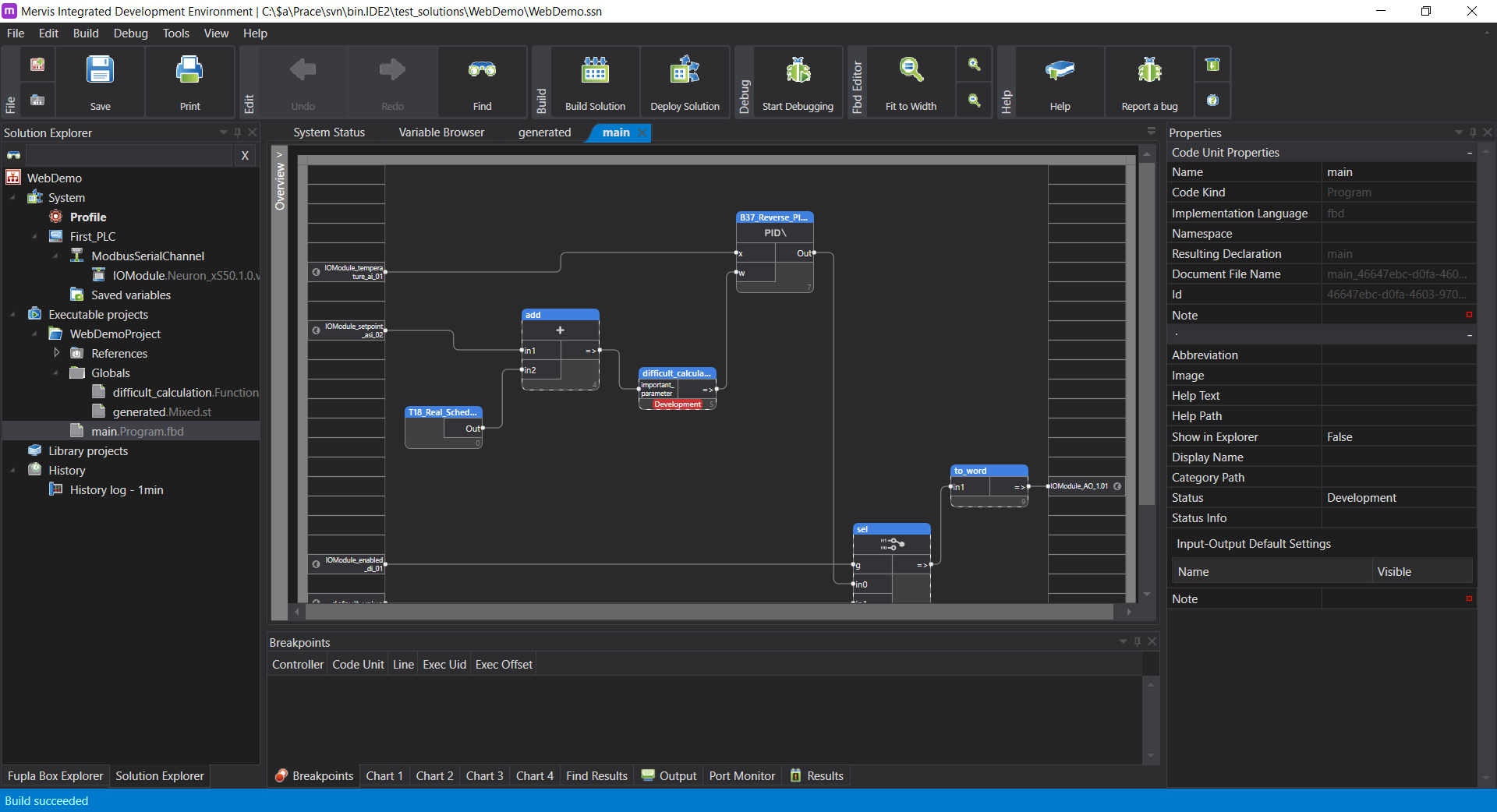 Communication protocols - drivers
| Protocol | Client | Server | Ethernet | RS485/232 |
| --- | --- | --- | --- | --- |
| &nbsp&nbsp Modbus TCP/RTU | ☑ | ☑ | ☑ | ☑ |
| &nbsp&nbsp BACnet | ☑ | ☑ | ☑ | |
| &nbsp&nbsp SSCP | ☑ | ☑ | ☑ | |
| &nbsp&nbsp SoftPLC Link | ☑ | | ☑ | |
| &nbsp&nbsp AMiT DB-Net/IP | ☑ | | ☑ | |
| &nbsp&nbsp M-Bus | ☑ | | | ☑ |
| &nbsp&nbsp Jablotron 100 | ☑ | | | ☑ |
| &nbsp&nbsp IEC 62056-21 | ☑ | | | ☑ |
| &nbsp&nbsp Hitachi H-protocol | ☑ | | | ☑ |
| &nbsp&nbsp SMA-net | ☑ | | | ☑ |
| &nbsp&nbsp 1-Wire | ☑ | | | |